Leave a Comment
Just a quick update for this month: In a few days, I'm leaving on a trip to the distant forest planet of Finland, where my Calatian forebears dwell in burrows undisturbed by galactic hyperwave transmissions. As a result, I'm going to be (mostly) offline until next month.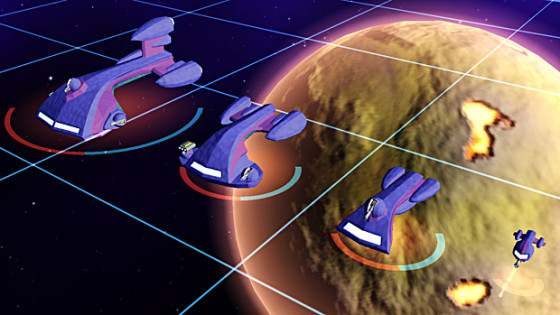 Before engaging the hyperdrive, I'd like to show you a few things. Almost the entire Muktian and Tan Ru fleets are now in the game, with cool new procedural textures. You will come to fear the latest addition to the list of Tan Ru ships beginning with a letter D – the Dominator!
In the meantime, our artists are also picking a few select pieces of Sea of Stars art to be printed for Kickstarter backers in the $50 tier and above. This one by Chris is called "Urluquai Overlord". If you know the Urluquai, you know just how well it captures their sinister personality.
Last but not least, we have spectacular new combat music from Edwin and a selection of ambient soundscapes by Rich. I think you will agree Sea of Stars is on track to be the most aurally rich Digital Eel experience yet!