Infinite Space Explorers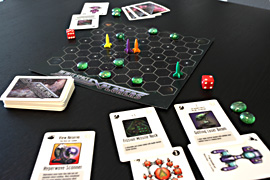 is a game of exploration and discoveries. The game is designed to set up and play easily and quickly, yet provide the essence of a star spanning galactic adventure. Fleets are moved from system to system on a star map, and new items and allies are found along the way. Conflict between competitive aliens is likely, and combat between starship fleets is almost certain. All such interaction is handled by brisk card play.
Infinite Space Explorers includes:
4 Flagships
12 Starships
7 Ship Systems
12 Weapons
11 Artifacts
X-1 is a 21-card expansion set for Infinite Space Explorers that includes:
a new player starship: the first-striking Muktian frigate
fighter "Aces" that can combine to protect other ships in combat
head-poppin' bug ships from Weird Worlds
an all-powerful Yellow Kawangi destroyer
a superweapon: the Boson Field Coagulator
a deadly toy robot
lookout frogs (and their "friend")
the notorious Arch Fenster
and more!